Begin the Begin: R.E.M.'s Early Years is available now. You can purchase on Amazon, or direct from Athens Georgia's wonderful Avid Bookshop. 
"The start of R.E.M and the rise of the Athens, GA music scene has been the subject of countless books, but few crackle with the ring of truth of Robert Dean Lurie's fascinating new volume Begin the Begin," writes James Mann at The Big Takeover. Read his full review here. 
There will be several release events. The big kickoff will be a party and fundraiser at the Athens GA Foundry on Sunday, May 19 featuring a reading, book signing, and live music courtesy of Dead Letter Office. This event is co-sponsored by Artist2Artist and Avid Bookshop, and proceeds from the door fee ($10 now or $15 day-of) will go to support suicide prevention and PTSD outreach programs for veterans. See flyer below for info. Tickets on sale here.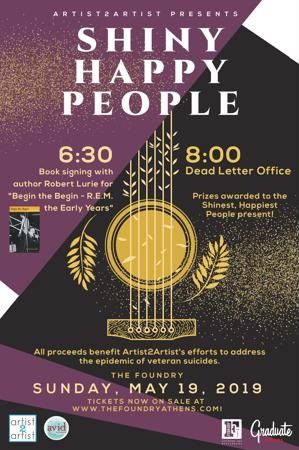 There will also be a reading and book signing on June 25 at the Mansion on O Street in Washington DC, and two North Carolina events are in the works for the fall. Watch this space for more details!