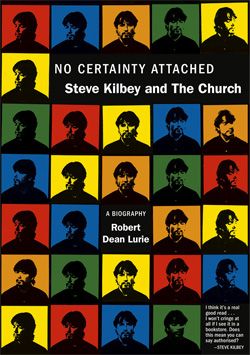 "Go on, buy it, read it. Imagine you had lived that life." -Steve Kilbey
"You have rarely read a more personal and revealing biography as this. Highly recommended." -James Mann, The Big Takeover
No Certainty Attached began its life in the early 2000s as my Master of Fine Arts thesis at the University of North Carolina Wilmington. Casting about for a nonfiction topic that could keep me engaged for 300+ pages, I kept coming back to the idea of writing about my favorite band: The Church. Their music (Steve Kilbey's singing and lyrics in particular) had held me spellbound from the age of 14 onward, and there was no full-length biography then available. I essentially set out to write the book that I wanted to read: a history of the band told from the perspective of its co-founder and chief lyricist.
I was extraordinarily blessed to have the participation of Steve Kilbey along with several of his past and present bandmates, collaborators, family members, and acquaintances. As I felt there was no way I could divorce myself from the personal aspect of the story--Kilbey's work had, after all, set me on my own artistic path, and I had even, in the late '90s, talked my way into opening for him at a solo acoustic gig in London--I embraced the New Journalism model of author-as-participant. However, great care was taken not to write a simple love letter or a gushy "Steve and me" memoir; my goal was to render the Kilbey odyssey in all its messy, self-destructive splendor. Fortunately my subject, himself a fan of "warts and all" biographies, supported this approach.
Since its publication in 2009, No Certainty Attached has proven itself to be "the little book that could," selling steadily as more and more people seek out information on the Australian band. The fact that I was the one who got to tell the story first is pure dumb luck, and not a day goes by that I am not appreciative of that.