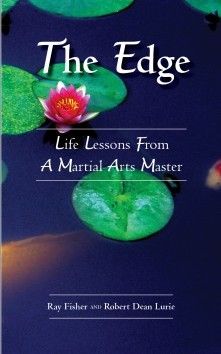 Five years ago I did something very impulsive: I committed myself to a writing project that would eat up a large amount of my time over the next few years with very little guarantee of financial compensation. While one might argue that nearly every writing project matches that description, this particular book really was out of left field. 
It all started with some lovely Taoist-themed poetry that martial arts teacher Ray Fisher published in one of his karate manuals. At the time that I across these poems, I had been training in Kenpo karate with Fisher for about a year; I already knew him to be an intense and charismatic teacher, but I had not until then been aware of his introspective side. In a very understated way, Ray's words spoke to some underlying issues I was then (and still am) working through: the lasting effect that past emotional baggage can have on the psyche and the need to gently transcend such psychological dead weight in order to live a more intentional life. Impressed and moved, I shot Ray an email stating that if he ever wished to compile his poetry and other writings into book form, I would be happy to help him edit such a volume.
A week or two later, Ray and I sat down to discuss the idea further. It quickly became clear that this project would not simply be a collection of Ray's pieces (though some of the poetry would make an appearance). Rather, the concept that evolved was of an original work co-authored by the two of us that would focus on martial arts philosophy. Ray harbored a concern that some of his newer students lacked interest in the "history and philosophy" of martial arts and were thus not properly grounded within the tradition. While it was not our aim to write a linear history (such a work would fill several volumes), this concern did animate the series of interviews Ray and I held over the succeeding years, discussions which generated much of the material in the book.
Casting about for a suitable structure for our narrative, I kept going back to a book I had enjoyed called The Art of Happiness by His Holiness the Dalai Lama and Howard C. Cutler, M.D. That book had been framed around a series of interviews Cutler, a psychiatrist, had conducted with the Dalai Lama. Each chapter addressed a different problem or philosophical concern, unpacking it from both Buddhist and scientific perspectives. Cumulatively, the practices outlined by the Dalai Lama in the discussions constituted a sort of checklist, or manual, for achieving happiness.
Our ambition was not so lofty, but Ray did have some eloquent things to say about how qualities such as loyalty, leadership, forgiveness, and self-discipline could be cultivated through a life in the martial arts. In a similar manner to The Art of Happiness, we broke our narrative into themed chapters. I then added aspects of my own story, for I could not ignore the fact that I was actively grappling with all of these concepts in the process of my advancement as a martial arts student. Thus, our book quite organically took on a dual-narrative structure, with our individual journeys complementing each other like two distinct melodies in the same key.
In hindsight, I am impressed by how smoothly things fell into place without a whole lot of conscious planning. Ray would typically select the topic for each talk and choose one of his poems to go with it. I would then write a lead-in hashing out my own thoughts on, and struggles with, that particular topic. Then during our talk we would examine the idea from all conceivable angles, occasionally circling back to my intro or Ray's poem. 
We repeated this process eleven times. Ten of the discussions were pared down and incorporated into the book (the eleventh, a talk on punctuality, didn't make the cut due to a faulty tape recorder and the fact that I had very little to contribute on that subject!). It then fell to me to assemble the material into a rough draft, which Ray fleshed out with additional material--corrections, elaborations, new angles. We did at least a couple rounds of this before the book made its way into the hands of our very capable editor Leigh Blackmore.
Neither Ray nor I realized during our first planning meeting at Chin-Chin's restaurant back in 2009 that our book would take four years to complete. But I think we'd both agree that the final product more than justifies the time spent. For me personally, working on the book has been an immensely rewarding process--one that has enabled me to get far beyond my comfort zone of rock 'n' roll biography and develop what I might call my "metaphysical voice." I am sure that this difficult work will yield immeasurable benefits in the future.
It remains to be seen whether The Edge will find much of an audience beyond the Arizona martial arts community, but we certainly wrote it for anyone--martial artist or not--to enjoy.
I'm glad I sent Ray that email. It's been quite a ride. 
The Edge: Life Lessons From a Martial Arts Master is now available from Amazon.com, Barnes and Noble, CreateSpace, and other book retailers.